Tianxi Oriental Club by Deve Build Design, Huizhou, China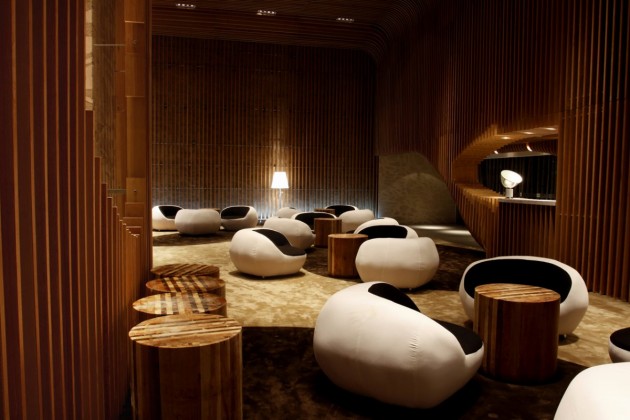 Chinese Design firm, Deve Build Design, has been commissioned to create a public space for the Tiaxi Oriental Club, Huizhou, China. Drawing on the simple theme of evenly spaced, doweled, wooden grill panels, Deve Build, has created flowing, transparent sculptural wall and ceiling panels - giving an organic life to interior surfaces. With natural shape openings and the rhythmic spacing of wooden slats, the design sheds the normal heaviness and non-dimensional quality of conventional wall and ceiling surfaces. The transparent system peeks onto a textural hard wall surface providing a careful contrast and juxtaposition of materials and finishes. With the choice of a warm color palette, the spaces exude an almost womb-like comfort, with subtle lighting and organic furnishings. Textural play between the sculptural, transparent surfaces, and the soft flooring and upholstery adds a comforting contrast and striking definition of surfaces. Linear wood elements are sculpted and joined as a flowing skin with connecting hardware tying elements together like connective tissue. The skin flows effortlessly from vertical to horizontal surfaces, unifying the spaces with a common theme and constancy of purpose.
See more photos in this Contemporist Article: http://www.contemporist.com/2012/04/18/tianxi-oriental-club-by-deve-buil...