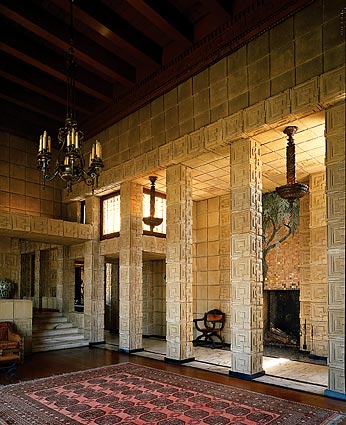 An interesting article about the Mayan inspired Ennis House - designed by the renowned Architect Frank Lloyd Wright in 1923.
LA Times Article: Ennis House - Architecture by Frank Lloyd Wright
Originally built for Charles and Mabel Ennis in the Los Feliz community of Los Angeles, this monumental structure is primarily constructed of pre-cast concrete "textile" blocks.  The design was inspired by ancient Mayan temples.  The deep relief block motif is repeated thoughout the home, adding both graphic and textural qualities to the structure.
Preserved as an historical landmark, this legacy to Los Angeles Architecture, shall remain an example of high art and a tribute to the patronage of a progressive owner.