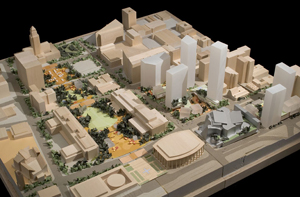 The start of construction for an ambitious project to renovate an existing Downtown LA County Mall, by transforming it into a 3 billion dollar Retail and Commercial center surrounding a 16 acre park, has been delayed until (at least) February 2013. The developer, Related Cos of New York, is seeking to extend it's start date due to funding and design issues.
Currently, the start of construction deadline is February 2011. If Related has not received an extension to begin construction, the joint city-county authority (LA County & CRA/LA) has the rights to terminate the agreement.
Grand Avenue would be one of the largest projects ever built in downtown Los Angeles - even larger than the recently completed LA Live retail, hospitality, and entertainment complex developed by AEG Worldwide.
The Grand Avenue plans call for up to 3.6 million square feet of development, the creation of a new central park, improvements of existing streets, upscale entertainment venues, restaurants, mixed use commercial/residential housing, and a major hotel. The project will complement the existing development on Bunker Hill including the Disney Concert Hall, the Music Center, and MOCA.
Authorities are hoping to secure the inclusion of a contemporary museum to house the Broad Foundation's extensive art collection. A consortium of private and public monies will develop the project with the goal of creating several thousand construction related jobs and nearly 6000 permanent jobs.
UPDATE: The Los Angeles City Council has approved the downtown location for a Broad Foundation art museum to be located next to the Disney Concert Hall. This vote certifies last month's vote by the Los Angeles Community Redevelopment Agency to change the 2007 development plan to now include this new structure. The anticipated cost of between $ 80-100 million should help to kick start the $ 3 billion Grand Avenue Project. A final decision is pending regarding the location of the museum Downtown or in Santa Monica.
UPDATE: The Los Angeles Board of Supervisors has unanimously given the green light to the construction of the Broad Foundation art museum at the site adjacent to the Disney Concert Hall. The remaining approval must come from the Grand Avenue Authority. The Broad Foundation has not made a final determination between the site choices in Downtown LA or in Santa Monica.
UPDATE: Eli Broad has announced that the New Eli & Edythe Broad Collection Museum will be located next to the Disney Hall, Downtown Los Angeles. The Museum will be designed by the New York Architectural firm of Diller Scofidio + Renfro. This project will kick-start the beginning of construction of the Grand Avenue Project. Construction of the parking structure is to begin as early as October of this year. The 120.000 square foot museum designs will be released in October. Adjacent to the Frank Gehry designed Disney Concert Hall and the Arata Isozaki designed Museum of Contemporary Art, this project shall complement the existing art scene downtown and serve to provide impetus to begin the Grand Avenue renovations.
See information on the Museum Design: Broad Foundation Museum