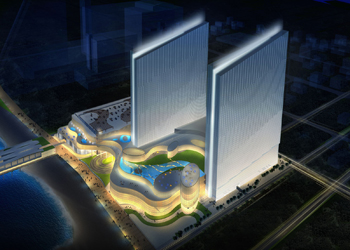 Revel Entertainment Group, developers of the Revel Casino, Atlantic City, have announce the restart of  the $ 2.4 Billion dollar Boardwalk mega-resort project.  Financing has been secured to finish the development of the largest scale casino/resort construction project on the East Coast, for many years.   Designed to rival the size and features of existing projects, this project is intended to revitalize Atlantic City as a holiday resort and gaming desination.
The current design calls for a 47 story hotel tower, scaled back to 1,090 rooms; a 150,000 square foot Casino (one of the largest in the area); a 5,800 seat Arena (convertable to ballroom and meeting rooms); a smaller 1000 seat theater; a man-made Beach venue; a posh Spa; 12 restaurants; retail shops; and two large scale nightclubs.  Future plans will allow for the expansion of the number of rooms to 1900. 
Projected to open mid 2012,  this very ambitious construction project will be monitored closely by the Exective Architectural Team, headed by Michael Prifti of BLT Architects.
Revel Entertainment                BLT Architects
Press of Atlantic City.com article