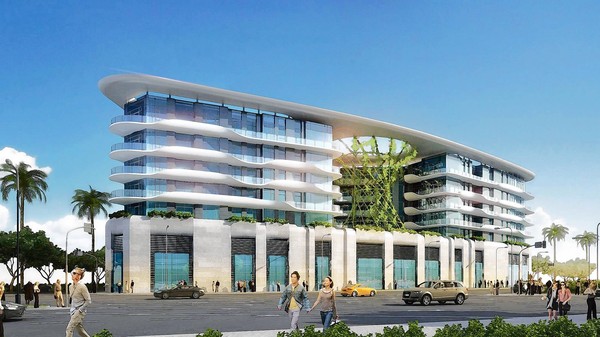 Los Angeles Times has anounced a new project by the highly sucessful developer Rick Caruso.  To be located at 8500 Burton Way, near La Cienega.  The existing parking lot, once the home of the Smith Bros. Fish Shanty restaurant, will be transformed into a $60 million dollar luxury apartment complex.
After having compleated several sucessful projects, such as the Americana in Glendale and the Grove in Los Angeles, Rick will take his unique perspective and create a multi-use facility for young professionals.
Anchored by a Trader Joe's, 88 apartments will be built in an 8 story complex.  Convenient to the La Cienega Restaurant Row, the Grove shopping complex, and the Beverly Center, Caruso expects he will have no problem finding tenants who wish to have a central location within the city.
See the article published in the LA Times, authored by Roger Vincent - Caruso Development
Link to Caruso Affiliated - Caruso Affiliated
UPDATE: Caruso Affiliated has announced a clearing of the way for the expansion of the very successful mixed used shopping center, Americana at Brand.  An adjacent property has been purchased and will be demolished to make room for the expansion.  The addition will add 140,000 square feet of retail, open space, and a cafe.  Caruso expects to spend as much as $50 million on the upgrade.
UPDATE: Caruso Affiliated has announced the signing of a Nordstrom to be an anchor for the expanding Americana at Brand retail development.  Nordstrom will move into a new facility to be developed on the recently acquired site mentioned above.  An existing store in the adjacent Glendale Galleria will be closed.
Link to LA Times article, authored by Roger Vincent, March 17th, 2011 - Nordstrom addition to Americana