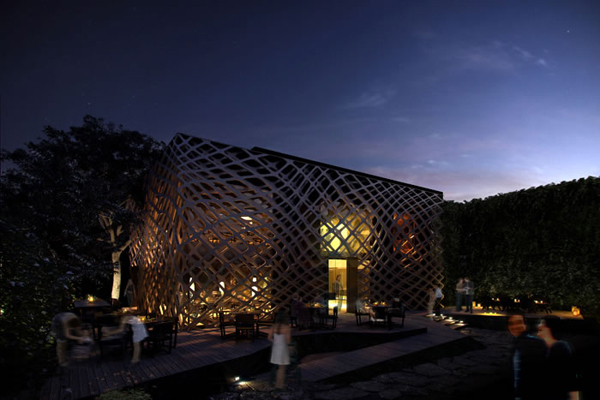 Textural Mexico City design for restaurant by Rojkind Arquitectos & Esrawe Studio.
Utilizing a combination of a textural steel skin with rustic organic elements, Architect Michel Rojkind and Industrial Designer Hector Esrawe have collaborated together to create a unique interior and exterior space for a high end Japanese Restaurant in Mexico City.
Computer generated exterior elements, carved with CNC precision, and joined into a continuous external skin, with an alive transparency and undulation - yet contained by geometric architectural boundaries.
Interiors utilize highly textural surfaces, strong color contrasts, within an intriguing architectural space. With occasional glimpses of the exterior skin, the interior spaces provide a sense of a protected environment, self contained and insulated from the world outside.
Wooden flooring, walls, and ceiling surfaces - accented with careful intrusions of color, from a living green wall and well placed furniture items, contrasts nicely with the lively blue enveloping skin.
Contemporist.com Article: http://www.contemporist.com/2011/11/23/tori-tori-restaurant-by-rojkind-a...
Rojkind Website: http://www.rojkindarquitectos.com/
Rojkind Source-Book Profile: http://source-book.com/profiles/rojkind-arquitectos
Esrawe Website: http://www.esrawe.com/
Esrawe Source-Book Profile: http://source-book.com/profiles/esrawe-studio
Photography by Paúl Rivera