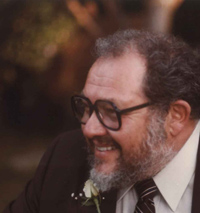 This website is dedicated to my father, Arthur E. Finkel. He has been my mentor, my inspiration, and has instilled in me a lifelong passion to provide the ultimate in service  and quality to the community which we serve.
Source-Book is the result of my lifelong passion to represent the best of the industry that I have grown to know intimately, throughout the course of my career – the Professional Interiors Design & Manufacturing Community.
Through many years (this is now my 35th year) of being at the very heart of this industry, I have witnessed various relationship changes within this community.  Manufacturers have come and gone, or have been renewed with new abilities and capacities.  Designers and Design Firms have gone through the same morphosis, impacted by economic factors, the constant change of the business climate, and by changes in personal relationships within and between companies.
Through it all, there is a remarkable record of achievement and innovation, represented by the end results of all this effort – the successful design & creation of outstanding Interiors Design Projects, whether they are for residential, commercial, institutional, broadcast, theatrical, or exhibition purposes – here in the United States or throughout the world.
There are many disciplines, representing many various trades (whether design or manufacturing) which contribute their creative energies and skills, towards making projects successful.  These energies network together, with the common goal of achieving the design and manufacture of successful projects and products – a process that cannot be attributed to one unique individual.
A successful project is the result of a process, involving many individuals with a variety of skills and experiences; conceived by the creative design process; initiated by the creation and distribution of raw organic products and synthesized materials; impacted by the manufacturing process and technology; and concluded by the construction and installation of the interior space.
The individuals, involved in this process, can be identified in networked relationships (circles).  Many times these circles overlap and new relationships develop resulting in new creative energies and successful projects.
This website was conceived to bring together the circular networks of this community's relationships into one format – a working tool for all who participate: to help them identify resources and to help them be more successful in finding products and services.
In this inaugural issue, we feature the work of the company my father built and nurtured, AE Furniture Manufacturing. 
To this day, AE Furniture's record of successful projects is a testament to a successful collaboration between talented Designers, dedicated Suppliers, and generous Clients. 
An outstanding history of dedication to quality and service shall not be forgotten…
Please enjoy the use of this website – we encourage your comments and suggestions.
Sincerely, Geoffrey Finkel, 
Source-Book.com